I love everything about painting murals. They stimulate my imagination to break out of the ego shell, to get out of myself — exstasis — because they force me to explore realms beyond my personal experience; to stretch my talent, imagination, and physical ability far beyond the comfortable necessities of easel painting.
Murals are works of art that decorate walls and tell a story; hence they are sometimes referred to as "Narrative Art." Murals are designed for an ambulatory spectator, someone moving through time and space — as opposed to easel paintings, which are seen from a fixed vantage point.
Easel paintings, on a smaller, even intimate, scale can be created spontaneously. There is nothing spontaneous about murals. They are perfect examples of "planned pictures." They proceed in stages: the conceptual sketch; the preliminary cartoon; the projection onto the wall; and the final execution in color. Their scale allows for complex compositions; the pictorial dynamics can be orchestrated symphonically, with different elements that have room to be exploited on a grand scale.
I feel happy to be a part of the tradition of this oldest form of art — murals — from the prehistoric walls of Altamira, Lascaux, the Tassili, and every culture worldwide, enduring even to our own time.
A Dance to the Music of Time
View A Dance to the Music of Time Gallery
O:L on wall, Patty O's at The Inn at Little Washington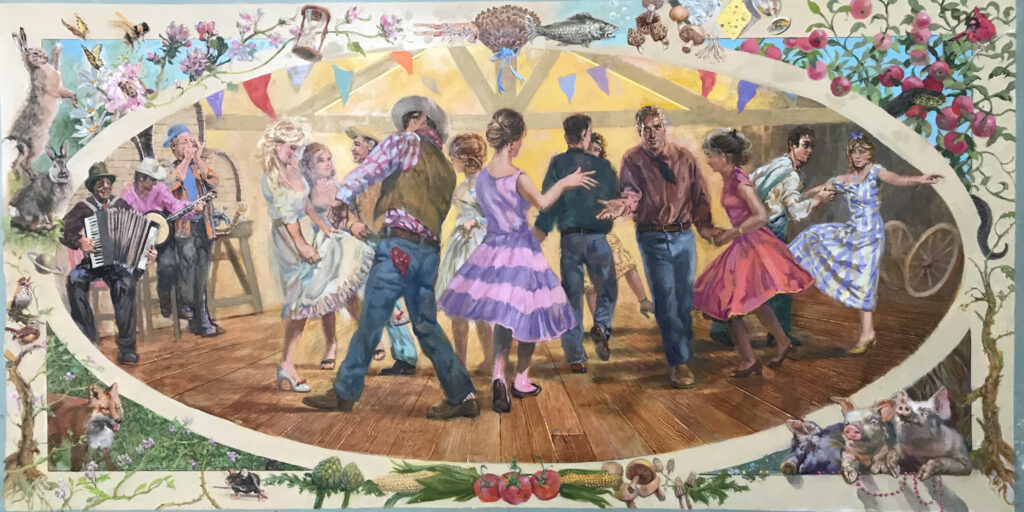 Arcadia
Eleven Panels: 5′ x 72′, O:L on wall, Private Collection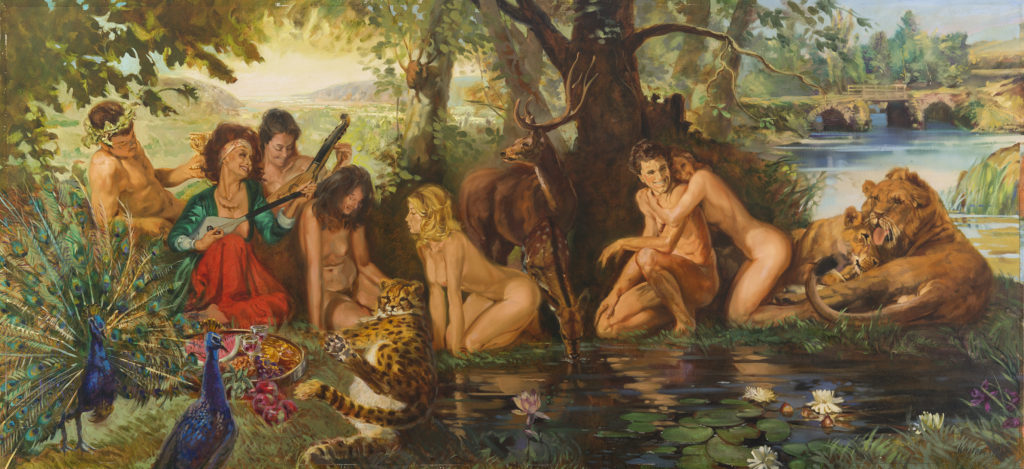 The Great Odyssey of Medicine
View Odyssey of Medicine Gallery
10′ x 50′, O:C on wall, Inova Fairfax Hospital (Fairfax, VA)

The Greatest Show on Earth
View The Greatest Show on Earth Gallery
22′ x 44′, O:C on wall, The Ringling Museum (Sarasota, FL)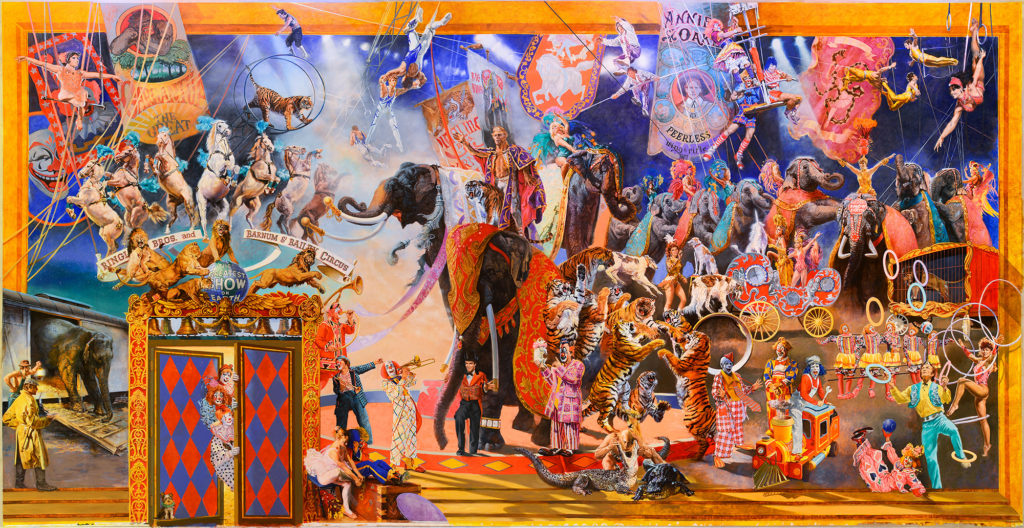 Historic Murals
Dolley Madison Rescuing the Portrait of George Washington
James Madison's Montpelier Visitor Center (Madison, Virginia)
Click to enlarge images



Jefferson at Monticello
6′ x 15′, O:C, The Thomas Jefferson Visitors Center, Monticello (Charlottesville, VA)
Click to enlarge image

A View of the Soldiers Home in Lincoln's Time
8′ x 14′, O:C, The Lincoln Cottage Visitor Center (Washington, D.C.)
Click to enlarge image