News
William Woodward's mural "A Dance to the Music of Time" for Patty O's Cafe & Bakery was featured in the WSJ Magazine:
The boxy exterior of the cafe's building has been updated with crown molding and striped sage-colored awnings. The wild, climbing foliage has been cut down. The once brown facade is now white. O'Connell says he has "softened the old gas station." Inside, a stone fireplace anchors the dining room. O'Connell commissioned muralist William Woodward to paint a dream-like scene depicting a joyous barn dance above the bar. "Hopefully after a few drinks, you'll hear banjo music and feel like you can just enter the mural," O'Connell says.

The Little Inn That Could
Read the full article: 2021 May 30. Washington's Little Inn That Could, Howie Kahn (Wall Street Journal Magazine)
All articles featuring William Woodward can be found here.
---
Exhibitions
Sign up to receive William Woodward's newsletter for updates regarding exhibitions & presentations.
---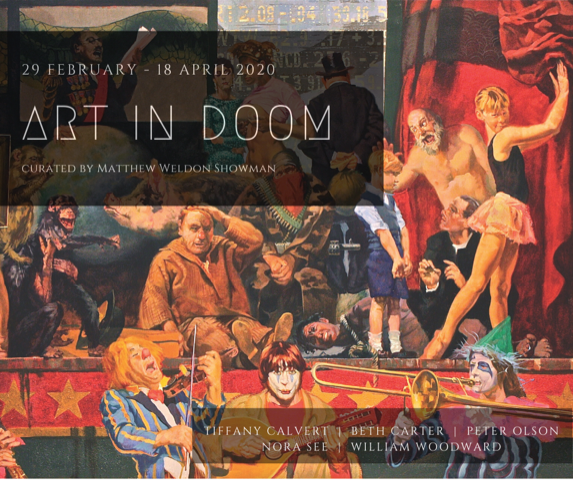 Recent Exhibitions
Art in Doom:
A Springtime Group Exhibition
February 19 – continuing
Due to COVID-19 the exhibition has been extended.
View a video of the exhibition.
For more information, press or sales inquiries please contact Jonathan Ferrara Gallery Partner & Director, Matthew Weldon Showman, at 504.343.6827 or [email protected].
Jonathan Ferrara Gallery
400A Julia Street
New Orleans, LA 70130
(504) 522-5471
jonathanferraragallery.com
Death. Destruction. Ill fate. Art in Doom will feature a range of established artists' works tackling subjects such as political corruption, religious pathology and the human condition. Cheekily scheduled during the springtime, a time of rebirth and rejuvenation, this exhibition derives its name from the event "Art in Bloom" which occurs at numerous museums nationwide during this time period. This contradictory and ironic exhibition is scheduled to take place 19 February – 18 April 2020 with opening receptions on 7 March and 4 April in conjunction with the Arts District New Orleans' First Saturday Gallery Openings.
---
RECENT AND RETROSPECTIVE:
Drawings and Paintings 1967-2020
March – August 2020
The Galleries at Long Branch
830 Long Branch Lane
Boyce, VA 22646
---
ARCADIA: The Clyde's Murals by William Woodward
November – December 2019
American University Museum at the Katzen Arts Center
4400 Massachusetts Avenue, NW, Washington, DC 20016
---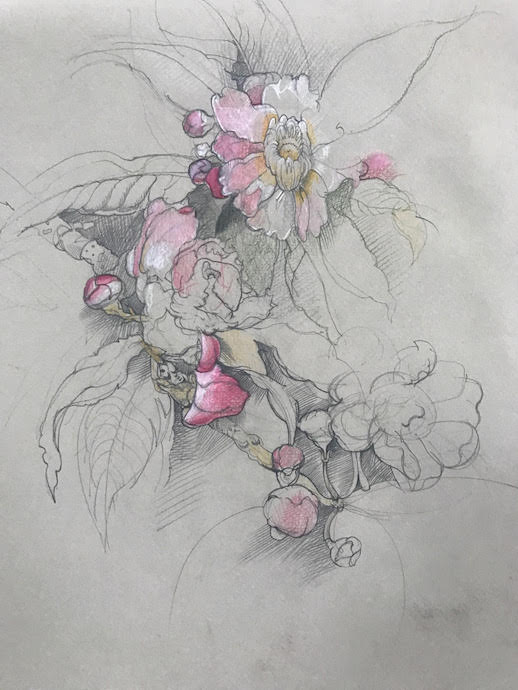 William Woodward: Master Drawings: 1958-2018
Opening Reception: November 20, 2019 · 7pm
Cosmos Club
2121 Massachusetts Ave NW, Washington, DC 20008
Cosmos Club Website · 202-387-7783
---

William Woodward: Master Drawings: 1958 – 2018
March 9 – April 13, 2019
Addison/Ripley Fine Art
1670 Wisconsin Avenue NW, Washington, DC 20007
(202) 338-5180
Addison/Ripley Fine Art Website
Gallery Hours: Tuesday – Saturday 11am – 5:30pm (& appointment)
Coffee & Conversation with William Woodward and Lenore Miller
Saturday, April 13, 2019 · 11am
William Woodward, Artist, and Lenore Miller, Director of the Brady Gallery at George Washington University, in conversation for the final day of 'William Woodward: Master Drawings 1958-2018.'
From Addison/Ripley:
With great pleasure Addison/Ripley Fine Art presents a curated exhibition of Master Drawings by long time Washington virtuoso artist, teacher and raconteur William Woodward.
"Sketching is almost everything. It is the painter's identity, his style, his conviction, and then color is just a gift to the drawing."

Fernando Botero
This exhibit will include a bountiful selection of drawings, culled from a lifetime of mark making. These drawings, in ink and wash, are broad in their reach of style and subject. Whimsy, close observation and grand, even theatrical renderings abound. Quiet land and sea scapes, explosive polo matches, quaint architecture and classical and expressionistic figures are among the subjects of these works. Drawing, as practiced by Willam Woodward, is as inescapably honest and as fundamentally revealing of the artist's skill and judgement as it is crucial to its inherent readily discernible quality. Woodward excels here, producing drawing both humble and sumptuous. Whether the subject is stand of trees or the center ring of a circus, Woodward's touch is precise, certain and infused with the confident air that only a lifetime of making art can bring.
As the artist puts it:
"Some of my drawings are studies for paintings, while others were done for the sheer pleasure of drawing for its own sake. I use all three classical methods of the great masters: Contour, Gesture, and Chiaroscuro (or light and shade drawings.) And I work without preference in all media: pen and ink, pencil, charcoal, and brush."

William Woodward
Without a doubt, on view here at Addison/Ripley is a sampling of the "sheer pleasure" the artist takes in his work.
From winning the invitational award for design of the U.S. silver dollar in 1989 to a First Prize at the 49th Annual Exhibition of Contemporary American Art at the Four Arts Museum in Palm beach, Florida in 1995, to lecturing at the National Gallery of Art, teaching at distinguished schools and universities, and receiving commissions for large murals in such public venues as Sarasota, Florida, Charlottesville, Virginia and Leesburg, Virginia, Woodward has been acclaimed as a teacher, an academic, a public speaker and a dedicated, world renowned artist. His most recent museum exhibition, "The Seven Deadly Sins: A Comedy", at the Katzen Museum at American University in Washington, DC was an allegorical and aesthetic tour de force.
···
For more information about the artist and his work, including work not seen in this exhibition, images from the exhibition or to schedule an appointment to view the work, please call Ms. Romy Silverstein at 202-338-5180.
···
Please click here to open a short form printable PDF invitation for Master Drawings.
Watch an interview with Woodward about his techniques and work in the Press section.
---
Legacy: William Woodward and Students, 1977-2005
October 5 – 27, 2018
Arts Club of Washington
2017 I (Eye) Street, NW, Washington, DC 20006
Arts Club of Washington Website
Opening Reception: Friday, October 5th 6:30 – 8:30pm
William Woodward's Lecture The Nature of Style: Tuesday, October 16th at 6:30pm
Review of the Exhibition: William Woodward's Natural Beauty (L. Jarvik)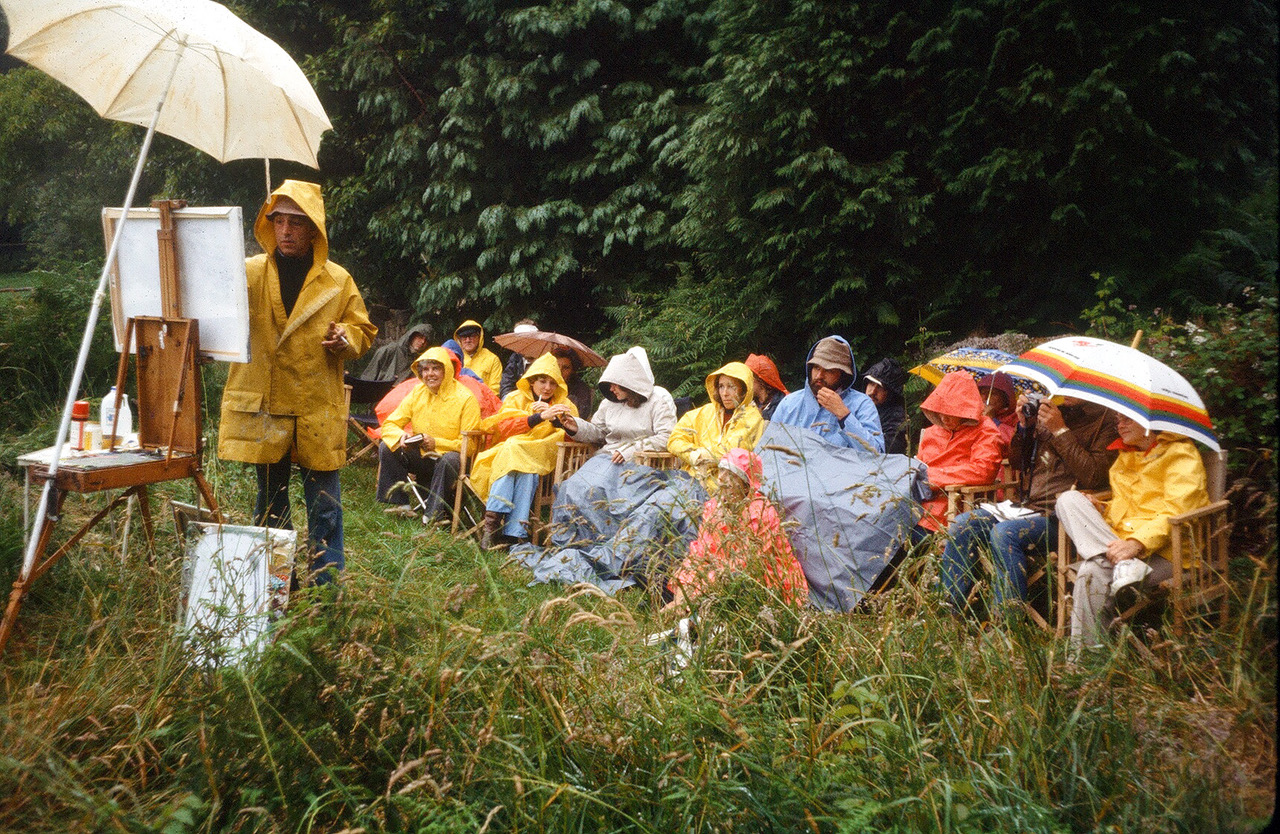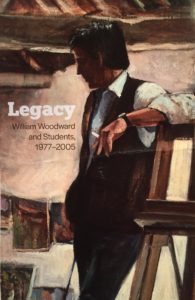 Professor Woodward (Emeritus, Fine Arts) taught for more than 35 years in the Department of Fine Arts and Art History at George Washington University. This exhibition honors his legacy with GW graduates and their work reflecting the teaching philosophy espoused by Professor Woodward.
-Curator: Lenore Miller
Director, University Art Galleries and Chief Curator,
The George Washington University
Artists Featured:
William Woodward
David Allison
P.D. Avallone
Amy Balent
Katty Biglari
Lydia Bodnar-Balahutrak
Karen Crenshaw
Danni Dawson
Dean Taylor Drewyer
Teresa Duke
Ben Ferry
Mike Francis
Gary Goldberg
Janis Goodman
Stuart Gosswein
Tom Hipschen
Kay Jackson
Sharon Martens Ksander
M.A. Langenkamp
Robert Liberace
Joey Manlapaz
Vivian Matz
Marguerite M. McCarthy
Michelle Montalbano
Sharon Moody
Judith Nulty
Judith Peck
Paul Reuther
Karen Seebohm
Clarice Smith
Joe Spollen
Bradley Stevens
Mary Anne Warner
Shelly Wischhusen
David Zimmerman
---
The Seven Deadly Sins: A Comedy Oil Paintings and Master Drawings, 1994-2014
September 5 – December 17, 2017
American University Museum at the Katzen Arts Center
4400 Massachusetts Avenue, NW, Washington, DC 20016

For the past two decades, William Woodward has delved into the rich history and aesthetic possibilities of the seven deadly sins. The master drawings and narrative paintings in this exhibition owe a great deal to the films of Federico Fellini, Charlie Chaplin, Buster Keaton the com­ media dell'arte tradition. The artist tries to imagine, had these directors and actors been painters, how they might have depicted their subjects in whimsical and elusive ways rather than strident and explicit interpre­tations. In creating The Seven Deadly Sins Woodward is not preaching about sin. Rather, he wanted to paint pictures that no one, including himself, had ever seen before.
'The Seven Deady Sins' Gallery

---
Follow William Woodward on Facebook for updates and events