Current Exhibitions
Master Drawings: 1958 – 2018
March 2019 · Addison/Ripley Fine Art
1670 Wisconsin Avenue NW, Washington, DC 20007 | Telephone: (202) 338-5180
William Woodward's Murals (Details forthcoming)
November 9 – December 15, 2019 · American University Museum at the Katzen Arts Center
4400 Massachusetts Avenue, NW, Washington, DC 20016 | Website
---
Recent Exhibitions
Legacy: William Woodward and Students, 1977-2005
October 5 – 27, 2018 · Arts Club of Washington · About the Exhibition
Arts Club of Washington · 2017 I (Eye) Street, NW, Washington, DC 20006
Submit photos to the archive collection
Opening Reception: Friday, October 5th 6:30 – 8:30pm
William Woodward's Lecture The Nature of Style: Tuesday, October 16th at 6:30pm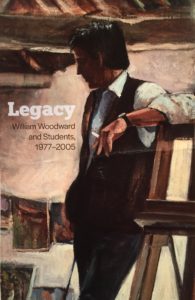 Professor Woodward (Emeritus, Fine Arts) taught for more than 35 years in the Department of Fine Arts and Art History at George Washington University. This exhibition honors his legacy with GW graduates and their work reflecting the teaching philosophy espoused by Professor Woodward.
-Curator: Lenore Miller
Director, University Art Galleries and Chief Curator,
The George Washington University
Artists Featured:
William Woodward
David Allison
P.D. Avallone
Amy Balent
Katty Biglari
Lydia Bodnar-Balahutrak
Karen Crenshaw
Danni Dawson
Dean Taylor Drewyer
Teresa Duke
Ben Ferry
Mike Francis
Gary Goldberg
Janis Goodman
Stuart Gosswein
Tom Hipschen
Kay Jackson

Sharon Martens Ksander
M.A. Langenkamp
Robert Liberace
Joey Manlapaz
Vivian Matz
Marguerite M. McCarth
Michelle Montalbano
Sharon Moody
Judith Nulty
Judith Peck
Paul Reuther
Karen Seebohm
Clarice Smith
Joe Spollen
Bradley Stevens
Mary Anne Warner
Shelly Wischhusen
David Zimmerman
---
The Seven Deadly Sins: A Comedy Oil Paintings and Master Drawings, 1994-2014
September 5 – December 17, 2017 · American University Museum at the Katzen Arts Center
Katzen Arts Center Website · 4400 Massachusetts Avenue, NW, Washington, DC 20016

For the past two decades, William Woodward has delved into the rich history and aesthetic possibilities of the seven deadly sins. The master drawings and narrative paintings in this exhibition owe a great deal to the films of Federico Fellini, Charlie Chaplin, Buster Keaton the com­ media dell'arte tradition. The artist tries to imagine, had these directors and actors been painters, how they might have depicted their subjects in whimsical and elusive ways rather than strident and explicit interpre­tations. In creating The Seven Deadly Sins Woodward is not preaching about sin. Rather, he wanted to paint pictures that no one, including himself, had ever seen before.

---
Follow William Woodward on Facebook for updates and events